Eliminate Analysis Paralysis
Track the data that has the greatest impact on your lead generation and sales initiatives. 
Custom dashboards with actionable metrics provide key insights that can yield substantial growth in both lead generation and overall sales. 
Whether you're just starting out with Google Analytics, or are looking at extracting data from paid platforms such as KISSMetrics or Mixpanel, understanding what your metrics are telling you is an essential step to creating an informed marketing plan.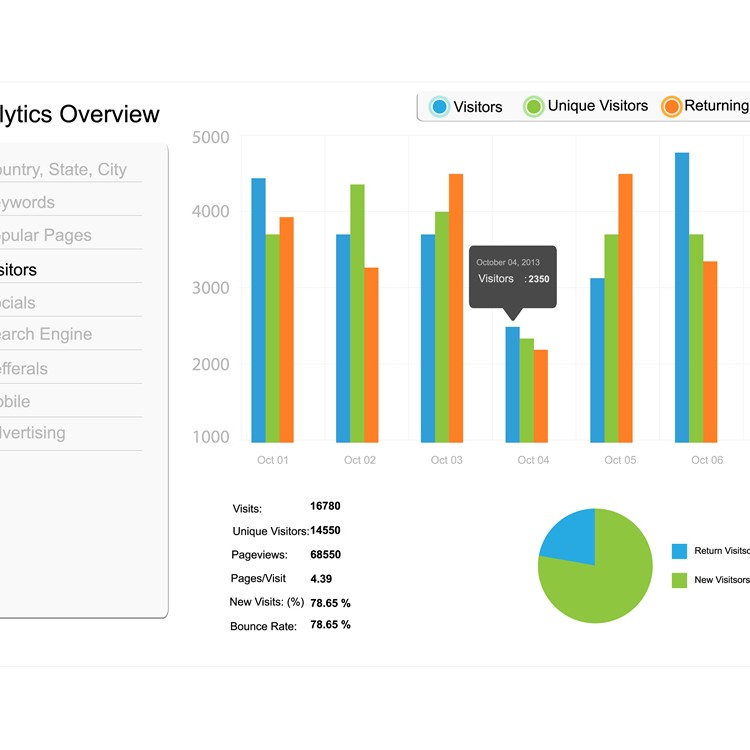 If you're like a lot of small business owners and independent professionals, you have a good basic grasp of analytics and conversion optimization. You understand the importance of tracking your online marketing efforts, and you want to use the data you collect to help your business grow.
What may be less clear is what data to track & how to take the data you're tracking and translate it into actions you can take to make a positive impact on sales.
First Steps
Goal Planning & Tracking - Get a solid understanding of what you need to track in order to make the most impact in your business. A full analytics recommendation package ensures you don't waste time tracking the wrong data, while focusing on the kinds of data that get the most results with the least amount of effort.
Analytics Evaluation & Recommendation - Make your analytics clearer with custom charts and dashboards to track the metrics that mean the most to your company. Plus get insightful analysis and insights based on past and present performance in your current analytics suite.
Get a Solid Foundation in Analytics & Optimization
Beyond Tracking
Benchmark Analytics - find your best-performing pages and uncover trouble spots with a comprehensive benchmark analysis that takes into account analytics, SEO & SEM data to paint a clear picture of how well your marketing strategy drives conversions.
Conversion Funnel Evaluation - uncover which pages have the most impact in sales, and where you can improve messaging and design to increase sales further.
Get Personalized Marketing Metrics Recommendations