5 Google Analytics Features You Probably Aren't Using (But Should)
You likely already know that Google Analytics is a robust and feature-packed tool, and many webmasters and online marketers consider it to be an essential part of their collections. In the following article, we'll take a look at five of the lesser-known features which will help you stay on top of your most important metrics.
 1 – Annotations
Introduced to Google Analytics in 2010, annotations allow you to specify dates when certain events or changes took place on your website, such as a redesign or a new online marketing marketing campaign. Annotations are important for two reasons. First, they allow you to compare metrics before and after any changes you've made. Second, they provide a history of your online marketing efforts, so when you are looking at yearly or seasonal trends, you can see which campaigns had the greatest impact in the past.

Creating annotations is simple. Click on the arrow beneath any report, and then click +Create new annotation. Annotations will appear across all reports, and can be either public(viewable by anyone with view access to the reports) or private (viewable only by you).
 2 – Custom Dashboards
Google Analytics' custom dashboards is an essential tool for getting exactly the data you are looking for, without having to scroll through multiple reports.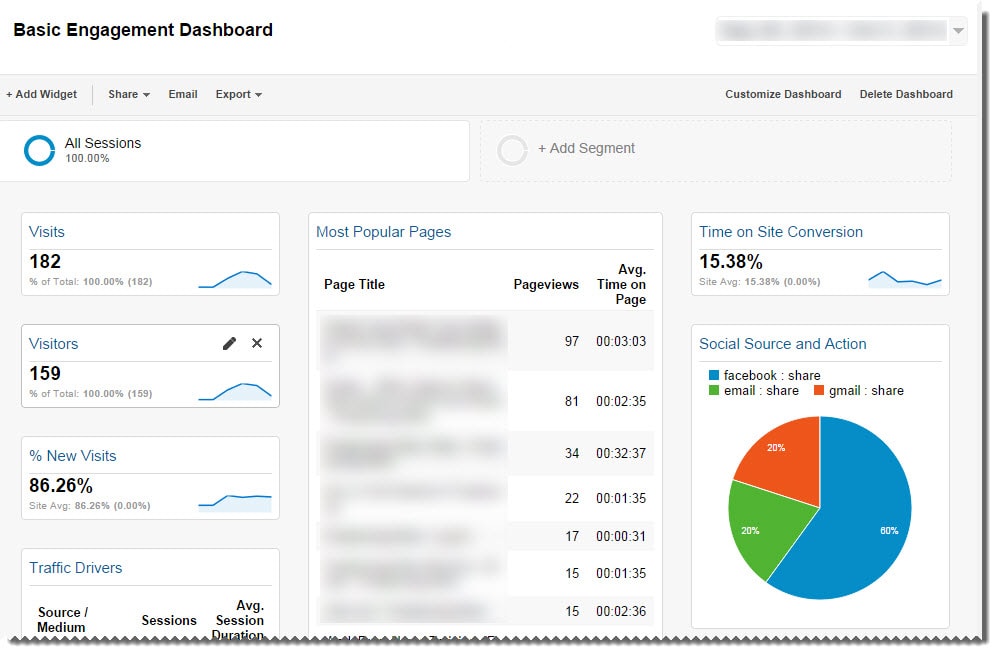 Create a new dashboard by navigating to the Dashboards > + New Dashboard section and choosing from a blank canvas without any widgets or the standard starter dashboard before adding the widgets you want to use. If you aren't sure where to begin, Google has an entire gallery of custom dashboards to choose from.
(Incidentally, if you want the one shown above, click here: https://www.google.com/analytics/web/template?uid=VjDuH3G9SNW5JWmHomA0RQ)
 3 – Custom Reports
As is the case with custom dashboards, custom reports created using Google Analytics allow you to focus on the metrics which are most important to you, and in the layout that makes the most sense for your business.  There are two ways to get started:
(Advanced) Navigate to the Customization tab and click "+ New Custom Report". This lets you create a fully customized report with additional tabs, filtering, and any other criteria you can think of.

(Easier) Customize an existing report, then click the "Shortcut" link – a copy of the report, including your customizations, will be saved under the Shortcuts link in the sidebar.
 4 – Custom Alerts
Google Analytics Alerts is effectively a round-the-clock guardian keeping an eye on the performance of your website and letting you know when something out of the ordinary occurs. For example, if your website sees a sudden drop (or surge) in traffic, you can have Google Analytics alert you immediately via email or text. This gives you the chance to recover quickly from errors or take advantage of an influx of traffic due to a popular blog post or sale.
To create a custom alert, navigate to the Admin area, choose the Account, Property, and View and then click "Custom Alerts" under the view listing. You will then be able to choose from a range of alert conditions, and when a specified event occurs, you'll receive a notification immediately in your email or via text message.

 5 – Content Experiments
For simple A/B testing, Google Analytics Content Experiments is a viable option. It allows you to test multiple variations of a landing page in order to determine which ones are the most effective at generating leads or sales. You'll also be able to define the percentage of your visitors who are to be included in each experiment, choose objectives to test and receive email updates to keep you in the loop with regards to how your experiments are performing.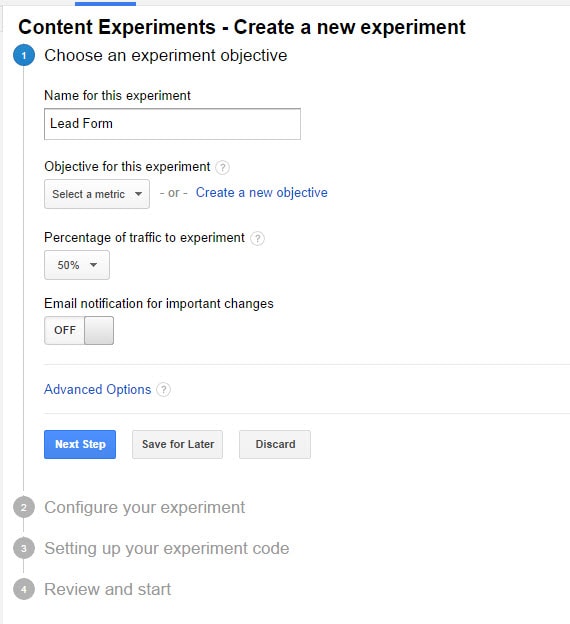 A few things are important to keep in mind for Content Experiments:
You have to create a new page for every version of your experiment – so this is not a viable option for those who have large numbers of pages to test.
Google Analytics can only track goals you set within the analytics platform itself
You need to have adequate traffic to come to a statistically significant solution – just a few hundred (or even a few thousand) visits is likely not enough to be conclusive
And there you have it. Five really powerful tools inside one of the most robust (and FREE) analytics suites around. How will you use them to help your business?
Sign up for hands-on practical strategy and working sessions each month to help you plan, execute, and optimize your online marketing.